News
First electric ambulance hits the road in Denmark
---
Following the lead of the police, another emergency service is embracing the green transition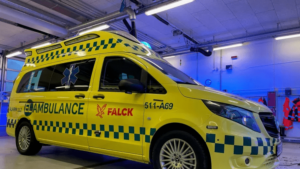 It's a big step for the Danish ambulance in the green transition!
For the first time in the country, an electric ambulance left Falck's headquarters in Sydhavn in Copenhagen this morning at around 10:30.
"It is a major milestone in our green transition. Our employees have delivered a difficult but fantastic job leading up to the launch of the electric ambulance, where the weight and the available space have been optimised down to the smallest detail, so that we have created an operational and scalable electric ambulance," commented Jakob Riis, the CEO of Falck.
It's further proof that the green transition is stepping up to the next level in Denmark following the arrival of ten electric patrol police cars in Jutland and Zealand at the end of January.
READ ALSO: Danish police to use electric cars
More respectful to the environment
The ambulance is a Mercedes-Benz e-Vito Tourer L3. A little bit smaller than the original Falck vehicles, it has a range of approximately 233 kilometres on one charge and can ride as fast as 160 km/h. The car can increase its battery level from 10 to 80 percent in only 35 minutes.
"I am really happy that Falck is taking the lead with this first electric ambulance in the Capital Region," noted Lars Gaardhøj, the chair of the regional council in the Capital Region.
"After all, we have a goal that all transport activities must be fossil-free by 2050."
The company expects electric ambulances to be the norm within the next three to four years.