Things to do
Big race tips for the St Patrick's Three-legged Race
---
This article is more than 7 years old.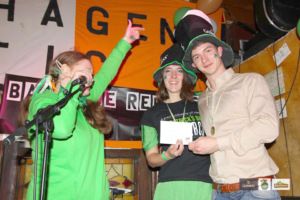 Sandra Petersen of Team Petersen won the 2015 race tied to her brother, Sebastian. We caught up with her to get some tips on how to win the race.
How did it feel to take the winning title at last year's race?
It was awesome! The previous year we came second, so that's why we really went for it last year – it was really great to have finally won.
How have you dealt with the pressure of fame?
There's not been much pressure …
Who made up the other one and a half legs in your team?
I've raced with my brother for the last two years, but the first year we raced separately. Our dad came to watch us and a friend of the family – they were so proud! Just kidding, but they did agree that it was a really fun thing to do.
What spurred you to participate?
I watched it as part of the audience a few years ago and I liked the fact it raised money for some really good causes. It looked like a lot of fun with lots of happy people, so I decided to join in.
Did you have a special racing technique?
We had a counting system, counting one-two-one-two. It was actually very methodical! I would advise racers to just keep on running and drinking very fast. My brother drank some of my beer as well as I couldn't drink it as fast, so that helped a lot.
How did you prepare yourself for the big day?
We had eggs and bacon for breakfast in the morning and then had the traditional Guinness at the start of the race. I dressed in green and we painted some shamrocks on my face as well. We also wore the top hats of course.
What did you win?
Last year we got dinner for two with a bottle of wine!
There's a choice of Carlsberg or Guinness this year – what's your tipple?
There's less gas in Guinness, so that might be better, but then again, it's so filling! I think I would probably go for Guinness.
Will you be back to defend your title this year?
I'm not unfortunately. I am travelling and my brother is so disappointed in me! He will be taking part with his friend and is going for first place again, so at least he will be flying the flag for the Petersen family.