History
The pedalling pioneer who knew how to please petticoat-clad posteriors
---
This article is more than 7 years old.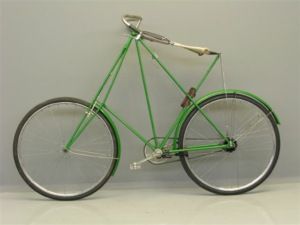 It is more than 85 years since the death of one of Denmark's most eccentric talents, the engineer Mikael Pedersen. As the creator of the (still used) hammock-saddled Dursley-Pedersen bicycle, he should have been one of this country's most celebrated inventors, but he died in obscurity.
Born in Fløng near Roskilde, Pedersen (1855-1929) earned himself a place in the annals of cycling history with his invention of a triangulated cantilever-framed bicycle with a hammock instead of a saddle. The bicycle, the Dursley-Pedersen – so named because it was first launched and manufactured in the Gloucestershire town of Dursley, England – enjoyed great vogue between 1900 and 1914, particularly among the gentler sex, to whose delicate posteriors the elegant and comfortable seat appealed immensely.
Pedersen's ladies' model, weighing 8.6 kilos, with a "dropped frame suitable for riding with ordinary skirts", was first put on the market in 1899, just two years after the Dursley-Pedersen Cycle Company started production in Dursley. Affording "perfect ventilation", the hammock saddle was available in silk, whipcord and leather, and Pedersen also designed a cycling costume for ladies, for whom cycling was a rather emancipated pastime a century ago in England.
An impetuous, lonely (and rather alcoholic) genius, Mikael Pedersen, whose gaunt, bushy-bearded appearance was reportedly frightening to children and off-putting to women (he had three unhappy marriages), first achieved renown in the field of dairy machinery as the inventor of a revolutionary centrifugal cream separator used for separating cream from butter.
Uphill pedalling 
A keen cyclist, first using penny farthings and small-wheeled safety machines, Pedersen began experimenting early on with new forms of bicycle frames and saddles. When no Danish firm showed any interest in his new-fangled hammock-saddled bike, Pedersen went off to England, where in 1893 he persuaded the agricultural and dairy equipment firm in Dursley, which had the British sales rights for his cream separator, to produce his revolutionary velocipede.
The Dursley-Pedersen was but one of many models Pedersen patented in England. All in all, some 30,000 of the bicycles were produced from 1896-1922, aimed at a well-to-do clientele and selling at £15 for the cheapest model in 1907. There were many variants: tandems, triplets, four-seaters and racing, folding bikes, and even a special collapsible military bicycle complete with rifle carrier, ammunition receptacle and quick-firing gun – the world's first twin-pedalled man-o-war.
Pedersen also experimented with new types of cranks, ball-bearings, anti-vibration and adjustable handlebars and lighter pedals, as well as pioneering a special golfer's machine with attached golf bag and other bicycles with elaborate luggage carriers for doctors and travelling salesmen. His invention of a special three-speed cycle hub gear revolutionised cycling.
A sultan's salute
During its heyday, the Dursley-Pedersen machine was a world-beater; ridden by Harry Goss Green, one of the great cyclists of the early 20th century, it notched up record times for the classic London-Brighton, Portsmouth, Liverpool and York runs. In 1904, the company's order books boasted sales to the sultan of Morocco, an Indian prince, four British admirals of the fleet, ten army officers of high rank, eight reverends and eight doctors.
After the First World War the bike lost its appeal and Pedersen, always a talented singer and entertainer, embraced the field of musical composition and performance, inventing his own version of the French horn and other wind and string instruments, composing an almost unplayable, impressionistic piece entitled 'Double Bass Dreams or Violin Whims'.
Pedersen returned destitute to Denmark in 1919, dying in an old folk's home ten years later, unknown to the bulk of Danes. In 1995 his earthly remains were moved from an anonymous grave in Copenhagen to Dursley, and one of the greatest inventors in the history of cycling was finally given a tombstone. The Copenhagen-Pedersen, a handsome modern reproduction of the classic Dursley-Pedersen machine, is back in fashion today, produced by Christiania Bicycles in Copenhagen's hippie 'free state'.