News
Corona Round-Up: Danish Commonwealth accounts for three of the world's top six COVID-19 hotspots
---
This article is more than 1 year old.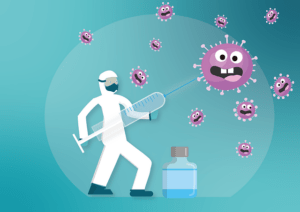 Following yesterday's news that a record 40,626 daily cases of infection have been confirmed in Denmark, it might not surprise you to know that the rest of the Danish Commonwealth is faring no better.
In fact, as of yesterday, according to ourworldindata.org, the three territories that comprise the Commonwealth have three of the six highest infection rates in the world, when the rate is expressed as a number for every million inhabitants. 
Top of the rankings is the Faroe Islands where 9,810 per every million people have been infected in the last 24 hours. Greenland is in fifth place on 5,460 and Denmark sixth on 5,320.
Still …
Nevertheless, the hospitalisation rate remains manageable at 825, and there is growing optimism that more restrictions might be lifted on January 31.
On January 26, the government is expected to make an announcement following consultation with the Epidemic Commission (experts) and consideration from the Epidemic Committee (politicians). 
Magnus Heunicke, the health minister, yesterday said that the number of intensive care admissions was encouraging. The number has halved since the beginning of the year: from 42 and 47 in the last two weeks of 2021 to 24 by Week 2. 
Nevertheless, the government will continue to cover corona-stricken companies' salaries for another two weeks: up until February 15. "Industries continue to face restrictions and are having a hard time," commented the employment minister, Peter Hummelgaard.
In other corona news:
– The proportion of hospital patients with corona who were admitted for another reason has risen to 35 percent – up from 27 percent in December and 25 percent in November. 
– The Sundhedsstyrelsen health authority maintains it is advisable to vaccinate children aged 5-11 despite disquiet among Danish paediatricians who recommend the matter requires further research. Norway's health authority, for example, does not advise it. 
– The Sundhedsstyrelsen health authority is considering the length of time that people with corona must isolate – particularly those without symptoms, who are required to isolate for seven days after their infection is confirmed. The business community would like to see this reduced to ease current staff shortages.
– Yesterday, 40,626 new cases were confirmed, of which 2,639 were reinfections. Some 17.6 percent of all PCR tests were positive. A further 15 have died.