News
Indian PM Narendra Modi coming to Copenhagen
---
This article is more than 1 year old.
It will be the first time in two decades that an Indian PM makes an official visit to Denmark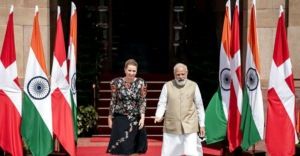 The government has confirmed today that Indian PM Narendra Modi will pay a visit to Copenhagen next month. 
Scheduled to stay in Denmark from May 3-4, Modi's arrival will signal the first time in 20 years that an Indian PM has visited the country in an official capacity.
"I look forward to welcoming PM Modi. We have a good dialogue and co-operation – not least via our Green Strategic Partnership," said PM Mette Frederiksen. 
"Denmark can help accelerate India's green transition – a green transition that will benefit the climate and contribute to the reducing dependency on imported fossil fuels."
Frederiksen went on to underline that the Danish-Indian partnership has immense potential for Danish companies to generate growth in Denmark and India.
READ ALSO: Denmark consolidates blossoming co-operation with India
An influential giant
She also said she would discuss the ongoing conflict in Ukraine with Modi and reiterate Denmark's position.
"As an important member of the international community, India can play a significant role in making its influence count," she said.
The plan is for Modi to visit Queen Margrethe and the Crown Prince Couple on May 3, where he will attend an official dinner.
The following day, Modi will participate in an Indian-Nordic meeting, where the leaders of Norway, Sweden, Finland and Iceland will also be present.
Relations between the two nations have blossomed considerably as of late, with Modi hosting Frederiksen in New Delhi as recently as October 2021 as part of the much-lauded Green Strategic Partnership agreement.