News
Come on Carla! Ex-ambassador ridiculed over Denmark remarks
---
Danes queuing up to roast Carla Sands for learning nothing about the country, despite living here for years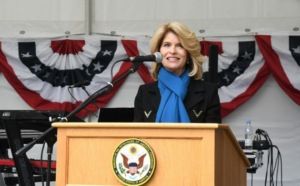 Carla Sands, who spent years serving as the US ambassador to Denmark as part of the Donald Trump administration, has come under heavy fire over comments made yesterday on social media.
In a Twitter post relating to rising petrol prices in the US, Sands compared the situation to her time in Denmark … drawing intense criticism and disbelief from commenters for suggesting that Danes bike because they can't afford to own a car.
"I've seen this before. In Denmark, middle class people can't afford to drive a car. They have a bike and take the train for long trips. My embassy driver would bike an hour in the snow to get to work. That's the future team Biden wants for Americans. Is this what you want?," wrote Sands.
Sands, who recently missed out on election to the Senate in her home state of Pennsylvania, apparently didn't ever come to grips over why Danes bicycle.
READ ALSO: US ambassador accused of undermining democracy by supporting Trump's electoral fraud allegations
Ministers of defence
A number of high-profile Danes, including Benny Englebrecht, a former transport minister, were among the many rubbishing her post.
"As former minister of transport I can assure you that using the bike for urban mobility is a question of choice, not economy for most Danes," he wrote, posting a picture of himself on a bicycle from back when he was at work as a minister.
"This is for instance me in my time as minister – and don't worry, we could afford a car. Next time you are here let's go for a bike ride."
Current health minister Magnus Heunicke also got in on the act, suggesting that Sands was outright lying.
"Now the Trump-appointed former US ambassador in DK is spreading disinformation about us. Our enjoyment of cycling, which is healthy and good for the environment, has become 'the middle class can't afford to drive a car in Denmark'. I refuse to believe that she doesn't know better," he wrote.
READ ALSO: Former US ambassador could face charges for illegally tweeting support for Trump
She ain't no Rufus
Others pointed out that it hardly ever snows in Denmark anymore and suggested that perhaps she should have paid her driver more.
Most commentators were flabbergasted that someone could spend so much time in a country without comprehending one of its key attributes.
Sands stands in stark contrast to her predecessor Rufus Gifford, who immersed himself into Danish culture, interacted with the Danes and embraced their cycling culture. So much so that he got married in Copenhagen and often returns to visit.
Sands, meanwhile, was rarely seen in public during her tenure and certainly not on a bicycle – despite living in the best cycling city in the world.