News
Name the place and the time! A third of 'youngsters' ready to accept Health Ministry's offer and receive a discarded vaccine
---
This article is more than 2 years old.
Most experts agree the risk facing men is minimal, but that women should be cautious – particularly if they receive some kind of hormonal therapy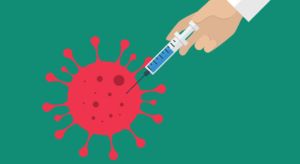 Every third person under the age of 50 would say yes if they were offered one of the discarded Johnson & Johnson (J&J) or AstraZeneca (AZ) vaccines, according to a Megaphone survey conducted for TV2 and Politiken.
Some 33 percent of 565 respondents aged between 18-49 said they would gladly take J&J, while 24 percent would happily get the AZ jab. Some 51 percent have said an absolute no.
The government on Monday officially discarded the J&J vaccine – a decision that Professor Søren Riis Paludan, an expert on immunology at Aarhus University, told TV2 was "extremely cautious".
Executive order grants public choice
However, a majority in Parliament has backed the public's right to choose for themselves whether they want to receive the jabs.
Statens Serum Institut has hundreds of thousands of vaccines in storage just waiting to be administered, and the Ministry of Health has confirmed they will be shortly up for grabs as it has issued an executive order in accordance with the Medicines Act.
"They should be offered to those who may wish to do so and be prepared to take the risk," said the health minister, Magnus Heunicke.
"The scheme will be an opportunity for an individual option for the individual citizen who wants a faster vaccination than you will get in the vaccination program."
Consultation with doctor necessary
Anyone interested must first have a consultation with their doctor before they are prescribed the vaccination.
Two companies, Carelink and Copenhagen Practio, are already onboard to administer the vaccines.
However, Praktiserende Lægers Organisation, PLO and Dansk Selskab have told the Sundhedsstyrelsen health authority they will not take part.
Blinkered by the benefits?
Professor Anne-Marie Gerdes, an expert on clinical genetics at Rigshospitalet, contends that many of those wishing to seek the vaccine are blinkered by the promise of a corona pass offering them more freedom.
While Professor Camilla Foged, an expert on vaccine design at the University of Copenhagen, does not believe the benefits of taking the vaccines would outweigh the disadvantages – an underlying principle of such a decision.
"As a professional, I would not recommend offering the discarded vaccines. It is difficult to predict who will be affected by these serious side-effects, because we do not have sufficient knowledge to assess it from," she told DR.
Too high a risk for women?
According to health experts, there is a one in 500,000 chance of developing blood clots after taking the J&J vaccine, and a one in 40,000 chance with AZ. 
However, Sundhedsstyrelsen believes the risk with J&J is just as high as AZ, as there is a suspicion of under-reporting in the US, where six women aged 18-48 developed blood clots, with one going on to die. 
It is believed the women were all recipients of the contraceptive pill or being treated for the menopause.
Several Danish health experts told TV2 that women should avoid the vaccines. Professor Lone Simonsen at the PandemiX Center at RUC advises young women to absolutely not take either vaccine, as the risk is "very high".
Professor Hans Jørn Kolmos, who specialises in clinical microbiology at SDU, has advised his two daughters, who are in their 30s and 40s, to wait for an approved vaccine. 
Minimal worries for men
However, Kolmos would approve of his son, who is in his late 40s, of taking it – and also of somebody like himself.
Both Kolmos and Simonsen, who would be happy for her husband and her 20-something son to take it, believe that men do not face a risk. 
"Overall, the risk of a serious course of coronavirus is still greater than a serious course of the vaccine. COVID-19 can, for example, cause blood clots, and such serious breathing problems that you end up on a respirator and suffer effects that can last for months," added Kolmos.
And don't forget the benefits, added Simonsen.
"You can travel, do not need to be tested and can be more easily seen with family and friends without the same nervousness as before, if you have had it," she said.
A resounding no from the health spokespersons
If there is one survey out there might make some people reconsider it is a somewhat cheeky poll taken by TV2 of the various parties' health spokespersons.
The overwhelming majority, even though many of them back giving the public the freedom of choice, would turn down the vaccines.
Liselott Blixt of Dansk Folkeparti said it was "crucial that Danes can choose", but said no. Martin Geertsen of Venstre said the same.
Indeed, only Per Larsen from Konservative and Henrik Dahl from the Liberal Alliance said yes, with several – Lars Boje Mathiesen (Nye Borgerlige) and Torsten Gejl (Alternativet) – refusing to answer.