Things to do
Performance Preview: Is Brexit done? Hardly …
---
This article is more than 1 year old.
Feast your senses on this hilarious farce from Copenhagen Theatre Circle, which opens in Nordvest this Wednesday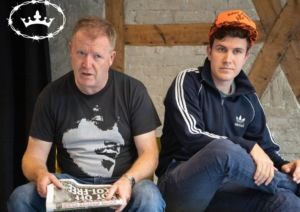 With a change of monarchy just days into her shift, the new British PM Liz Truss certainly has her hands full.
After all, things were already bad enough with the aftermath of Brexit to deal with: the matter the British public were told that "Boris got done".
Well, with the pandemic in the rearview mirror, its ugly head is emerging once again: brilliant timing for the opening of the Copenhagen Theatre Circle's new play, 'The Queen's New Border'!
Worldwide premiere of Brexit play
An original work written by long-time member Alun Thomas, it looks at Brexit and the small matter of the border between the UK and the EU. With the Northern Ireland Protocol up for further negotiation very soon, it's the political hot potato that won't go away!
We do not of course know as yet what stance our Liz will take with the EU, though it is unlikely to involve a hard border between Northern Ireland and the Irish Republic. So this unlikely scenario provides an ideal setting for this hilarious satire.
The story follows the absurd and chaotic construction of installations for the new border controls. As the project descends into farce, the play shines a light on more serious topics and personal struggles, touching on universal themes such as love, deception, football, murder and Jaffa cakes.
But overshadowing the drama are the very real implications of Brexit for life in Northern Ireland, and the upheavals threatening to jeopardise the fragile peace.
Drawing on his experience
Alun Thomas is a world-renowned engineer originally from Northern Ireland.
Thus in his second play, he draws on his own experience, both personal and professional, lending humour to an otherwise seriously dangerous scenario with roots going back centuries.
This play exudes the infectious energy of a writer who is inspired by the subjects closest to his heart.
---
The Queen's New Border
Sep 14-18, performances at 19:00, post-performance special discussion on Sep 15, Sep 14 is SOLD OUT; BIBLIOTEKET Rentemestervej, Rentemestervej 76, Cph NV; tickets 160kr, group discounts available, ctcircle.dk/the-queens-new-border
Please note that this play contains strong language throughout; parental guidance is advised.